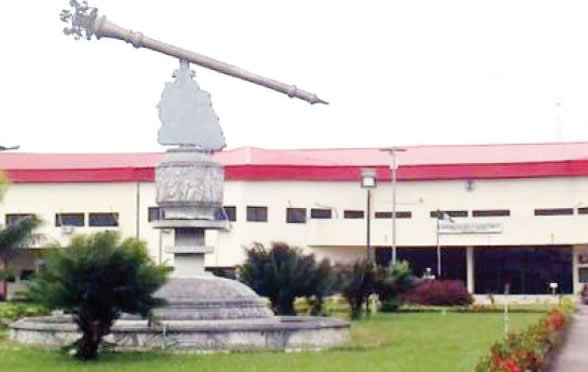 The Akwa Ibom State House of Assembly (AKHA) has declared its willingness to partner with the leadership and membership of the Pharmaceutical Society of Nigeria (PSN) to tackle the sale of counterfeit drugs in the state.
The Speaker of the House, Rt. Hon. (Elder) Udeme Otong, made known the decision of the Assembly, when he played host to the leadership of the Pharmaceutical Society of Nigeria (PSN), Akwa Ibom State Branch, at the Assembly Complex in Uyo.
The Speaker who was responding to a request for the formulation of a Bill against fake and counterfeit drugs, assured that the House will work out modalities to reactivate the State task force against fake drugs and other unwholesome practices within the profession, to safeguard the health of Akwa Ibom people.
"We used to have a task force on counterfeit and fake drugs. The current administration in the state is very serious and won't tolerate unprofessionalism, especially, regarding the health of the people."
"I want to assure you that the task force will be reactivated. Thankfully, the Chairman of the House Committee on Health is here. We'll write officially to the Governor and also come up with legislations that will address issues of counterfeit drugs and quackery in Akwa Ibom State."
Read Also: A'Ibom House Of Assembly Passes Anti-Grazing Bill Into Law
"I know there are patent medicine dealers, but they are not supposed to dispense On The Counter (OTC) drugs. We must ensure that approved drugs are sold by registered pharmacists", he said.
While thanking the group for the visit, Rt. Hon. Otong assured that the Assembly will also collaborate with other health professionals to better the welfare of the people in the sales and distribution of drugs.
Earlier, the President of PSN, Akwa Ibom State Branch, Pharm. Abasiama Uwat, while congratulating the Speaker on his elevation, called for the setup of more internship centres in the state to cater for young Pharmacists in the state.
She lamented the upsurge in kidney ailments in the state as a result of the consumption of fake and adulterated drugs, calling on the Akwa Ibom State House of Assembly to assist with the formulation of a law to tackle the menace.
At the courtesy visit with the Speaker; were Hon. Moses Essien (Ibiono Ibom), Hon. Lawrence Udoide (Ini), Hon. Precious Selong (Urue Offong/Oruko), Prince Ukpong Akpabio (Essien Udim), Hon. Uduakobong Ekpoufot (Etinan) and Prince Aniefiok Attah (Nsit Atai).
Others were Hon. Jerry Otu (Ikot Ekpene/Obot Akara), Hon. Ubong Attah (Ibesikpo Asutan),  Hon. Dr. Itoro Etim (Uruan), Rt. Hon. Mfon Idung (Ika/Etim Ekpo), Hon. Kenim Onofiok (Oron/Udung Uko) and Hon. Eric Akpan (Nsit Ibom).