Platform
2023 Guber: There Is A Vision Embedded In Me – Udoedehe
…. Resource Control: I Played Key Role In Finding Political Solution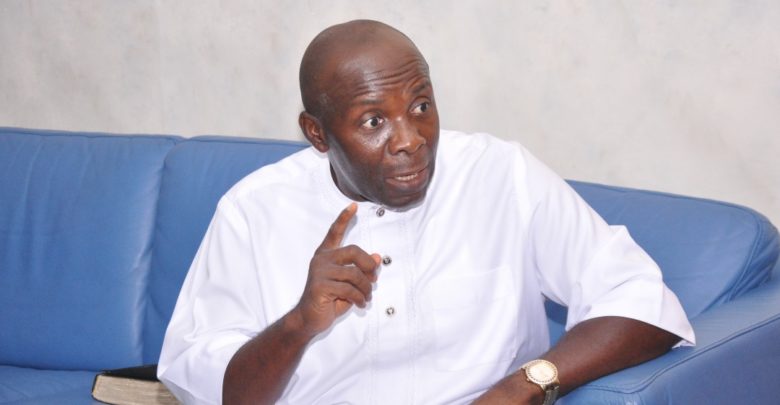 …. I Am Not A Rebel – Senator Udoedehe
Senator John James Akpan Udoedehe, is a man with immeasurable clout within and outside political circles. His braveness and clear objectives in bettering the lots of his people attracts for him a commanding followership in Uyo nay Akwa Ibom State.
Udoedehe has served as a Minister of State, Federal Capital Territory under President Umaru Musa Yar'Adua; a Senator of the Federal Republic, Akwa Ibom North East Senatorial District (1999-2003) as well as Chairman, Uyo Local Government Area in the 90s.
In an exclusive interview with Crystal Express Newspaper on Saturday, December 14, 2019, Senator Udoedehe, a former governorship candidate under the platform of the Action Congress of Nigeria, ACN, and the All Progressives Congress, APC, spoke on some contemporary and salient issues raging in the polity. Excerpts:
What are the plans of APC for 2023 and specifically with the power shift to Uyo Senatorial District in Akwa Ibom State? Will you contest again?
The truth of the matter is that there is a vision imbedded in me. I do understand what some other people don't understand. When you talk about 2023, of course, I am interested but will not be elaborate about it since we are still in the court. The APC governorship candidate in the state is at the Supreme Court to seek for justice, though he had promised to do four years for power to shift to Uyo Senatorial District, so we are very much interested in 2023 governorship.
Are you satisfied with the conduct of 2019 election?
I have no opinion. The position of my party is my opinion. I am a party man. I stand by what the party decides. I am not the candidate of our party. I align completely with my party's position on the outcome of the 2019 election.
Many Nigerians were surprise to see that Senator John Udoedeghe, a tough-talkingand notable politician, is now a Minister of God. How did this new life occur?
I was announced as an Elder of Christ Sanctified Church of God in 1982 by Bishop Umondak. The priesthood has always been in my family because my forefathers and ancestors were priests to idols, so there was priesthood in my family though not of Almighty God. The mantle of priesthood is on me and most of us are priests. My forebears were the then warriors of Afaha if you know the history. I love God. I gave my life to Christ as a Senator in 2000 though I had a revelation for priesthood and have to answer it to avoid having problem with God. My assignment is simple which is just to preach Jesus Christ as our Lord and Savior to the world. I don't own a church but I assemble people here every month to preach the gospel. As a role model, people like to follow, I now lead by example as a Pastor.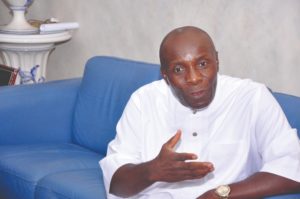 Apart from my background and inheritance, I realize that as a child, people used to cluster around me. If after close of school, most of my peers will escort me to my house before going to theirs. And in my secondary school days, lots of students and friends returned to my house with me from school during holidays. We now realize as young people then that we can successfully challenge and change the status quo. Apart from me, the first person we used to upset the status quo was Mr. Nsikak Nyong to challenge the likes of my father's mates who were dominating the politics of the era. Nsikak Nyong defeated the former Chief Whip of the then Cross River State House of Assembly to go to the House of Representatives at the young age of 27 years. It was an eye opener for us and having realized our strength, we believed we can do more on anything we set our mind to do. That was how we started. From then I opted to be the chairman of Uyo Local Government Area and succeeded and later moved to the Senate. I became a trailblazer and role model to a lot of people. We have nobody to look up to for mentorship thus we become role models for ourselves. Of course we are qualified, having finished our university education and doing well in business. I took after my father who was a very successful businessman with links and investments in several blue chip companies. I also come from a family of rulership (traditionally).
You were elected a senator on the platform of PDP and you worked as Director General on that platform for Godswill Akpabio's emergence as Governor. What informed the separation between you and him and the party you helped to form in the State then?
I don't like answering these questions because I don't want to make Godswill Akpabio uncomfortable after our reconciliation recently. You know what happened, PDP was not accommodating our interest and we needed our then President from the South-South to show leadership. Two brothers were having fisticuffs and somebody ought to intervene but the doors were shut against every opposing views and we had to run to another platform notwithstanding that I am one of the founders and conveners PDP in Akwa Ibom State. I was the second in command to Chief Etukudo Ekpro who was a very popular and strong politician and if he was alive today would have had no rival in terms of generosity, humility and political maneuvering.
He was a great political mobilizer and I was his staunch friend and follower. My affinity with him made people to think that he was the force behind my chairmanship of Uyo Local Government Council. But I became chairman on my own before my fraternity with Ekpro. I actually approached him to work together as friends then we formed the Uyio Akwa Ibom and Obong Victor Attah came with G34 and the FOVAN and brought in Etiebet who was aspiring for the Presidency. Ekpro thought that with Etiebet as an aspirant he will be able to shield him but just like they are doing to me now, the Ibibio people moved against him and chose Obong Victor Attah as their choice and there was a consensus in favour of Attah. I wouldn't like to go into much details because I have decided to have Obong Victor Attah as a father figure. In a nutshell, the major structure of over 90 per cent belonged to Ekpro.
The only thing that stopped Ekpro from becoming a Governor was consensus. At that point, I had an option of either abandoning Ekpro or joining Obong Victor Attah but I stock to Ekpro who also assisted me to become a Senator. Notwithstanding my position, Obong Attah and his wife were very kind to me. I, even at that point, received preferential treatment from Attah more than any other National Assembly member from the State. As I said, morally, I have no right to move against Obong Attah. The only person, Ekpro will call his own in government then was me and I never betrayed him to team up with the then governor. If I had done that, he would have died earlier than he did.
You have a record of achievements in helping your people rise politically in Uyo Senatorial District. But you keep saying that rather than people to appreciate your efforts, theyturn round to attack you. Why?
It is one sad trend that has dominated the society. You see a situation where you are in Nigeria with your parents and giving them a helping hand but once your brother who stays abroad comes, you are ignored while he is celebrated with pomp and pageantry even though that while abroad he never offered anything to them down home. The average person believes that every good thing comes from abroad. It will take a meticulous and gracious fellow and one with a clean heart to know that people like us come once in a while and ought to be celebrated. I am always a yard stick of measurement. It's either I remind them of their failure or their pride that God has lifted one of them. I was elected a council chairman during the option A4 era and was groomed on how to behave as a public officer. That change brought about by my induction behavioral-wise, was misunderstood by some people. The same applied in character moulding when I was elected as a Senator in the earlier days of the current democratic experiment. In the Senate, I and Gbenga Aluko were the youngest in a Senate populated by former governors and several other high ranking politicians. Some of them included Jim Nwobodo, Ike Nwachukwu, Melford Okilo and many topnotch including ex ministers. I was faced with the reality of working with the people I used to read about as my colleagues and the standard of behavior have to change, as you cannot behave as a child. So that pattern and behavior with the accomplishment of the office puts one into certain behavioral pattern. But to your peer group, you may be seen as showing off. It takes only people with higher level of intelligent quotient (IQ) or grace to admit the fact that things have changed. Again, why they keep complaining is that for instance, the House of Assembly Members, Commissioners, Representatives or Senators of today; 20 years from now, a new set of people will be in that office saddled with the same responsibilities and nobody will remember what they have done. I was a senator 20 years ago and if I tell you my constituency projects, some will not even notice them anymore. Look at the collapsed roads that littered the country, if you are told a particular person did that road, you may not believe. IBB Avenue used to be the best road in Akwa Ibom State, but it has collapsed.
During the Abuja saga;the question of Abuja front, those who were in government especially from my axis who were desirous of impressing the then governor did all sorts of things against me. They were carrying placards against me. The state-owned electronic media and their newspapers were permanently putting me in bad light. They bombarded me with negative press only that God sees the heart and knows the truth. Again, who has given me credit for resource control? Who will believe that I did it? During that era, they were mixing the local politics with my achievements in the National Assembly. I was not given a platform because I was not supporting the government but my friend Ekpro who assisted me to become Senator. I will rather die than abandon him.
If I had abandoned Ekpro, the history would have been terrible for my children because he helped me. I don't abandon friends because I want to please government; that is who Udoedeghe is. When Ibibio elders tried to see the then President, Chief Olusegun Obasanjo, and failed, I was there to help them facilitate the meeting. When the meeting, led by Obong Monday Udoinyang eventually held, Obasanjo agreed to the political solution for the resource control saga. When they returned to Uyo, the Ibibio Elders' Forum was quickly disbanded with the allegation that they allowed a "small boy" to mislead them in Abuja. Monday Udoinyang died uncelebrated. That was how Ibibio Elders Forum collapsed, all because, they didn't want me to be celebrated. That visit I facilitated was how we achieved political solution. Forget the stories you heard earlier, no one man can claim to be instrumental to the solution.
Senator Udo Udoma was only lucky because as Chairman, Finance and Appropriation Committee, the bill was sent to his committee. We all worked in unison to achieve the political solution. Even the local bill I prepared is still with me but we all married the different versions of the bill under the chairmanship of Senator Stella Omu who was the highest political officer holder in the Senate then from the South-South. If you check the original bill, you will see my name. What people don't understand about a person is beyond them. I have just returned from giving honour to former Secretary to the Government of the Federation (SGF) Mr. Ufot Ekaete who died recently. People forgot that I was removed for him to become a minister but I will tell you that what he achieved in public service career, I didn't achieve but what I achieved in politics, he didn't achieve. He was a minister and the wife a senator but I was both senator and minister; it is an achievement but who talks about it. So our people celebrate what they don't know and compete with what they know. Who still remembers the sacrifice I made for young men to become chairmen of councils. Before then, chairmanship was not a small matter; the last man who became chairman of Uyo before I came was Chief Okon Mkpong a foremost principal and school founder. Then when they are looking for chairman, they go for retired permanent secretaries. People have forgotten that it used to be big men that are sought for to become chairmen of Uyo then which included Ibesikpo Asutan of today. Then as chairman, within three months, I electrified Ibesikpo Asutan Local government Area. Who remembers that most of the people I helped are no more.
When people said what I did, if you are not there how will you remember? People ask me as a senator what did you do and I ask if they were there because most of those asking the questions may not have been born or still kids at the time. In 20 years time, some people will ask those who are privileged to occupy political positions today what they did. Government is being abused for lack of access roads to Aba, Umuahia, Calabar among others but they have forgotten that we used and enjoyed those roads for over 40 years. I always keep faith when people rise against me because I know the God I worship remains the last hope and the omniscience who is the owner of the universe. I am happy that my life is in God's hand and what one think will happen to me will never without God's approval. People rely on hearsay most times to judge my person. Some say that Udoedeghe is troublesome but they have forgotten why he was troublesome.
Can you admit that you are a rebel with a cause?
I am not a rebel; the system wants you to believe so. Let's go back to the so called trouble that I have made and show me one. When all of you are being cowed and brutalized, and unable to come out of your houses because of kidnappings, you were threatened to your marrows without courage to speak, except Senator Udoedeghe. No man or woman had courage to come out and speak against the evil; is it why I am troublesome? It is some of these people who fail to understand that they are ungrateful. I did what I did because of the ungrateful people. If you say I am troublesome, have you ever seen me fight on the street or beaten anybody? The people, I mean my people, were in trouble and I came to their rescue. Now there is no other business here bigger than the government.
Those from my tribe who were once the beneficiaries of the system and later fell out of favour with the system returned to the "trouble maker" who gave them a platform which I created. They came and equally wanted to push me out again. How dare could they call me trouble maker? I told them if they were that bold, they ought to go, bring another political party and groom it like I did with the one they came to join. They ought to give me credit for providing them platform and not saying that I am troublesome. Even the man who was a governor then is now a beneficiary of the platform to become a minister. I expect praises from such people and their supporters. They don't want to admit that I know more than them or give me credit. Is that not evil?
How do you feel, staying in the same platform with those who fought and frustrated you out of PDP and now with you in APC?
Well if they have come to just join the party, fine. But they came to destroy me the same way they did earlier in PDP. I am a believer in God and read the Holy Bible always which has provided solutions and one of the solutions is to have a heart to forgive which is very powerful. I am personally someone who has overcome fear. I am not afraid of anybody and nothing can frighten me except it has not flesh and blood. If I see a demon and it is touchable of course, I can fight it. They came into my party with lies to my supporters that Udoedeghe collected money from Mr. X without giving them. Knowing the heart of man, many of my supporters will ask, how can I collect such amount and not give them after all the support? That was how they were able to corner and blindfold some of our supporters before they realized the truth. Somebody said Bola Tinubu gave me N2billion, an average person who does not know what N2billion is, will think it is something one can carry in his portmanteau. One, there is no vault in Akwa Ibom State that can take N2 billion.
Two, which aircraft will carry such funds for an individual? Don't forget that if you are transferring N100 million it must be reported to the appropriate financial intelligent agency to know what the funds is meant for. So when you are speaking to the minds of people who don't understand, they believe but it takes a while for people to decipher that they were pure lies. I have handed over such lairs to God and asked Him to always intervene for me.
When we were with the Vice President during the last lap of Nsima's campaign in a bus, at the meeting, Etiebet said Akpabio told him to quote him (Akpabio) that he give me N850million and I told the Vice President thank God Akpabio is in our party. The Vice President asked Akpabio who expressed surprise and asked where he could get such amount from and Etiebet challenged him that he said so. They were all lying to get appointments, to bring me down so that they will go up. In 2015, all the big men who came with Umana to my party went to Tinubu to tell him that Umana Okon Umana will win the governorship race.
The traditional institution sent for me to come and I got a tip they want me to step down for Umana and one of my brothers from my clan called me on phone and I never know it was on speaker to come and I told him that I was not coming that I had information that they have bribed the chiefs. They said that since I was not ready to come they sent the deity which nearly choked me to death on 28th of November, 2014. They forgot I fought for them too against some people in the system because money was not involved, they abandoned me. If loving people, standing up for people or fighting for justice, fighting for the down trodden made me troublesome then they may be right.
As a stakeholder of APC, can you rate the performance of Buhari's led government?
No, it is not right. I am a member of the Board of Trustees of the party and have channels to speak or talk to Buhari directly. We don't advise or criticize the President on the pages of newspapers as a member of the party. If I want him to do something about Calabar-Itu Road, I'll go directly to him. It is unfair if you are a member of a family to come out publicly to criticize some family members. I can only do it to an opponent government. Political parties should protect their members.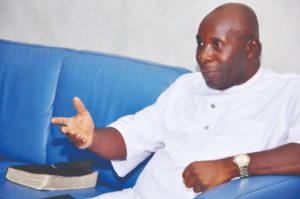 But are you concerned about Calabar-Itu Road?
Of course, I am very concerned. I think the traditional institution here led by the Oku Ibom Ibibio should lead a delegation to the President, who may never have known the deplorable state of that road. There are things the President may not know and you think he is aware. Someone may even show him papers and pictures of well paved roads culled from say China and he will be wondering why the people from this area are yet to come and thank him after doing their road for them. I heard from the grapevine that the Ministry of Works will include the road in the budget. Again if we are to talk about politics, we will be mindful of our complaints over here because they didn't vote for the man. In politics those who voted massively get more and those who never voted can be ignored. It happens sometimes in the state. The hospital near the mechanic village is in my village and government has refused to re-equip the hospital because it is in Udoedeghe's village, the opposition man. So if they can do it to me, the federal government too can ignore you. Don't forget it took some people so many years in opposition before they have access to government, do you know how many years it took Buhari to get to government? Do you know how many years it took Yoruba people to bond with the North to form a government? Here we are not used to opposition rather we are used to eating. I started opposition since 2011 and I don't even have the appointment yet.
Are you satisfied with your party reward system, taking cognizance of your case for instance?
Let me tell you what I have learnt from the church at the funeral service of Late Obong Ufot Ekaette, which is to let the will of God be done always. One might be struggling not knowing that it is not the will of God. The will of God brings peace and perfection. The will of God is perfection but it doesn't mean you will sit idle and wait for it. If you try and it doesn't come your way you thank God. God has not deny me food and he has a way of taking care of me. Another reason people believe that I am taking money from some politicians is that they think I am a political jobber and not involved in any business. They thought that it is only through government that one can make money. When they see you pass looking good they wonder how you survive.
People here do everything to run others down and celebrate their down fall. I have to rebuke people writing to EFCC to prosecute Senator Bassey Albert because I don't understand why people will want one of their own down. I don't even wish my enemy evil because there will be a time he will be needed. If you need a personality to use in Abuja tomorrow, is there any chief whose personality will match that of a senator. I don't believe in destroying people.
We should change, stop grooving in evil and wish one another well. Somebody asked me why I was looking for governor and I asked him to go read his Bible very well. If you persist in what you want faithfully observe the rules and believe in God, He will take you to your destination. I have told you how we started. Who will believe I will be chairman at that time or that Buhari will be President when he became President. Destiny can be delayed not denied. The reason why the elites are not supporting me is because they have been in government and made fortunes for themselves. So if you are my supporters and asking me for money to maintain their bogus lifestyle, do you think I can afford it? No, that is why I was being loved by ordinary people. If there is any politician in this state being loved without money, it is Udoedeghe, I have seen people want to die for me, I have seen people die for me, and I have seen people cry for me. I have enjoyed true love. Ordinary people understand me because I can also die for them. But for those who see themselves as my rivals, they don't see anything good in me. These are the people that believe money can be everything.
There is this belief at a time that you are in government pay roll even as the leader of the opposition in the State?
That is another blackmail taken too far. Let us be practical. Show me how I will help the state government. In 2015 show me how I would have helped Akpabio to defeat Umana. Umana Okon Umana left his party without any structure of PDP following him, not even his ward or chapter. So who will vote for him? Show me how I would have helped Akpabio to defeat Umana; with which power? Umana bought the ticket two weeks before the primaries and they wanted me to fight and support them to become governor. I didn't then because they don't even know the owners of the party they joined. I asked him to face his PDP since it was PDP vs PDP in that election. Knowing the power of PDP they crushed them. They came out to say that Udoedeghe would have made them win and I said so you knew and took the ticket from me. He took the ticket that he was better than me. I don't know why they were complaining again and how I could have approached government for money in such scenario. I stated publicly in this over the radio that before I left PDP that Akpabio use to give me about N10million every weekend when I visited. That government was my government but I left it for them. If I wanted money why should I fight Akpabio? People were there enjoying with Akpabio, they are the ones that betrayed you not me. In South Africa, when Mandela was in prison, there were Zulu people dining with the white people against the blacks. I left my comfort zone then. Before I arrive airport, Akpabio will send, through Prince Akpabio, to wait for me here with N10million sometimes N5million and I left all that for you people. I left my position as a Minister when I started confronting them. Who talks about it? That is what happened. Will I sneak to go and collect money when I had left a legitimate government I supported to come because of you people. Any man that accuses me of that should ask for God's forgiveness because if they continue like that, time will come when they will run into trouble and nobody will come out to fight for them. If people continue the blackmail, God may bring another war in which nobody will come to their rescue the way I did because they don't appreciate the good things I did.
How do you see the government of the state under Udom Emmanuel?
Do you want them to say that I have collected money to praise Udom Emmanuel? I won't say anything. My candidate is in Supreme Court and if they nullify the election, we will go back to the polls. So how do you want me to start praising the government? If money is my problem here I will no longer be playing opposition. If I want something from Udom Emmanuel, I will go for it because there is something belonging to me in his possession. If you don't know, let me tell you that I have 80 per cent share of Quality Ceramics. I am the owner. If I wanted money I would have demanded for it now, it is just like the Nigerian Newsprint Manufacturing Company; when I was the Senate Chairman on privatization I looked for government guarantee to secure the company. They said I was asking government to divert people's money to my benefit. I left it. What have they done with that company? They destroyed their own before they could think. My money is still with Akwa Ibom Investments Promotion Council and I have not talked about it. Those who seek people's downfall cannot rise. I want to implore young people to process whatever information they have about people or government because whatever you wish anybody will come to you. I do restitution for my sins and I ask people to follow suit.
You recently talked about need for home grown governor. Why?
Yes, because our people suffer from inferiority complex. You don't just jump on the man from Lagos, because you don't even know what he is doing there. You don't even know what he has been suffering. You relinquish to him because of inferiority complex. I am a graduate of the University of Uyo and I went to the Vice Chancellor recently and told him that he is yet to properly recognize me. I told him I have to address the convocation because I am the only graduate from the institution who has been a minister and senator and he has never celebrated me. I told him to celebrate me and encourage other people.
The same complex is affecting the school because if it fails to make people know me it means the institution is not proud of my achievements. I did my masters and Ph.D at the University of Calabar. One's position in the class is no guarantee for wealth but talent may take someone far. Go and read the history of those who made it in life, you will see that talent most times takes people very far. Akwa Ibom people must try one of their home grown for 2023.