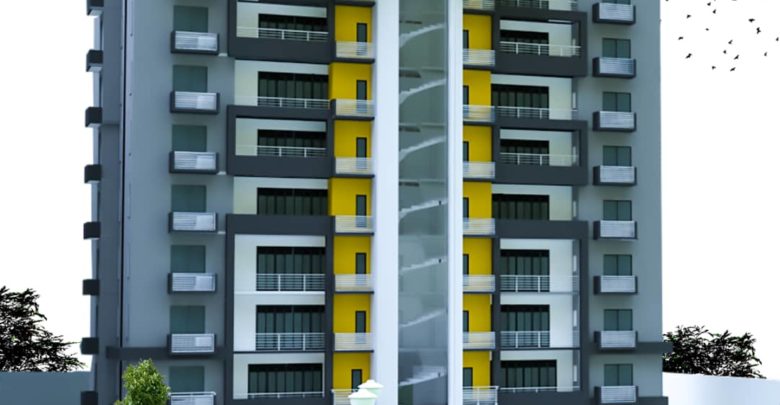 It is a truism that buildings are a reflection of a society's prestige, tradition and development. Huts suggest a rural setting while bungalows point to a society that is making headway in advancement. But in a society that you find tall buildings, you will definitely understand that such is a prominent feature of a city of economic or political importance.
Tall buildings have been around for a very long time as can be seen even in the Biblical era when people attempted to erect a structure high enough to reach into the heavens; the Tower of Babel, at a time when there was no technological advancement whatsoever and no reasonable need for it. However, people of that era understood the beauty and prestige of residing in such a building.
Nevertheless, tall buildings are not uncommon these days as there are tons of them dotting the skylines of major cities around the world.
In Nigeria, we are witnessing a surge in the number of mid and high rise buildings springing up all over major cities and they are fast gaining popularity because land is limited as well as very expensive in desirable areas of the capital cities like Lagos and Abuja. In Lagos alone, there are newcomers to the city's skyline like Nestoil Towers, Intercontinental Hotels, Eko Pearl Towers, 4 Bourdillon road, Eden Heights and Civic Towers as well as the new World Trade Centre in Abuja. With Akwa Ibom State ranked as the Second Most attractive State for Foreign Direct Investment, statistics indicating influx of diverse businesses into the State, one may wonder the state of tall buildings in the State. No need to dismiss the State in this direction. There is good news.
Recently, the Capital city of Uyo in Akwa Ibom State witnessed its first major high-rise building with the 21 storey smart building. Christened 'Intelligent Building,' the facility is meant to accommodate International Oil Companies (IOCs) and other multinational corporations operating in the state. Will this be the only tall building in the State? What about tall building that serve as residential estates as seen in other advanced societies?
The Conception of Vision Heights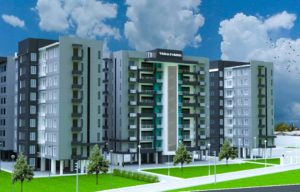 On Thursday, 12 December, 2019, history was made in Akwa Ibom State. The political class and captains of industries gathered at Ibom Hotels and Golf Resort to witness the signing of Memorandum of Understanding for the building commencement of the first mid-rise estate in Akwa Ibom State.
The Estate prophetically christened Vision Height will be located on a 10,000 square meters portion of land. Nonetheless, it is one stride to have a mid-rise estate but achieving a good neighbourhood feat is not easy.
Interestingly, Vision Height earmarked to stand at a height of eight (8) floor with 204 apartments of 3 bedroom flat each is close to the famous Ibom Hotels and Golf Resort. Yet, what really will be the unique features of this estate?
Features of Vision Heights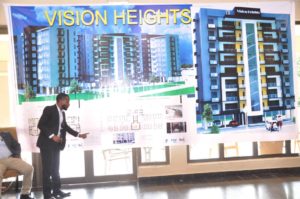 According to the Design Architect of the Estate, Mr Nureni Fashina, they are going to put in place what he described as a smart city. What will really make the estate smart?
Fashina offers insight to the fact that the estate will have an eco-centre which will serve as the backbone of where fibre optics serving the estate will be controlled. He says this centre will control water reticulation and back up power thus ensuring the estate experience 24 hours power supply.
According to the Architect, " That smartness is what will give the environment 24 hours reliability with no service failure."
What is more, the environment will serve as a destination of unparalleled serenity. Fashina points out that there will be a provision for ample green areas and space between blocks. He states that with the provision of back up power from Solar energy, the estate will not experience noise from generators as such will not be allowed in the estate. The Architect points out that their aim is not only to have a serene environment, but also to have a pollution free estate.
Another feature that will make Vision Heights estate outstanding is its technological features. Fashina notes that since the estate is designed to be a smart building, access control will entirely be smart. What does he mean by this? He explains " Even if you have a key, you can't enter your house. The house must recognize you and your family members before you access your apartment.
"To access the estate too, you must have your code. Of course you know there will also be an elevator for access." Additionally, he notes that the entire estate will have free WiFi connection.
Each of the three luxury bedroom apartments, the Architect says will have a large kitchen and dinning with guest a room all en-suite. This apartment will also have service portals, coupled with a study room carefully and aesthetically designed in an ambience that engenders good study.
Feshina notes that the 204 apartments will have a four (4) bedroom flat pent house on each of the three blocks of the building meaning that there will be three pent floors. He mentions that these pent houses will boast of a large and exotic living room and large master bedroom.
Still within the premises will be a provision of an exquisite recreational centre hosting mini sports centre and garden.
Interestingly, the estate will be blessed with an office complex that is a separate block. This block, the developers refer to as Iconic block.
Feshina says since the estate will stand as a community in every sense of the word, there will be a provision for a shopping complex and pharmacy to serve the estate.
While noting that there will be adequate security personnel in the estate, he adds that there will be CCTV cameras strategically located for security purposes even as there will be provision for janitors to man the estate.
Giving an overview of the estate, the Architect notes that "the idea around this smart estate is to create an environment that is all inclusive, unique and luxurious. This mid-rise estate will change the skyline of Uyo. And it will indeed become the most sought after estate in the State."
Glaringly, by going vertical, one gets to be blessed with a bird's eye view of the surrounding areas. There is no gainsaying that there is this feeling of "I can conquer the world that comes with being in a high or mid rise building''; literally. Mid-rise building of this kind will also give the opportunity to indulge in the panoramic floor-to-ceiling window concept which in turn allows the flow of natural light and air compared to horizontal buildings.
But does Akwa Ibom State really need such an estate at this point? Why the choice of an estate that is in close proximity to Ibom Hotels and Golf Resort?
The Need for A Mid-rise Estate in Akwa Ibom State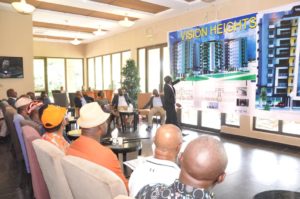 The Consultant for the project and Chairman of Project Development and Finance Company, PDF, Folarin Aluko justifies the need for such a tall and luxurious estate in Akwa Ibom State. He says " We have carefully looked at Akwa Ibom State, more people have been coming into the State to invest and more will still be coming in to invest. When these people come in, they will need a tasteful house where there will be constant power, peace, serenity, security and lesser traffic along their route."
The Chairman of Vision Company, Obong Bassey Inuaeyen gives another reason on what is behind the building in Akwa Ibom, he says that since the 21 storey office complex built by the State is near completion with International Oil Companies (IOCs) expected to relocate to the State, those who will be coming in to work there will need a comfortable estate to live.
On why the estate is located near Ibom Hotels, the Consultant notes that they want residents of the estate to exploit the facilities and serenity Ibom Hotel have to offer.
He says that residents of the estate will not only be wowed by the aerial view of their surrounding but will from time to time enjoy facilities such as golf course found in Ibom Hotels.
Aluko offers insight to the fact that they also chose the area owing to the low traffic Nwaniba road is known for hence enhancing the comfort of those who will reside in the estate.
He adds " You can't have this kind of landscape and build just anything. We are poised on exploiting this beautiful landscape. After completion, Vision Heights will stand out as the address of Akwa Ibom State". Nevertheless, with these lofty vision, how certain can one be that this estate will come to manifestation?
Ownership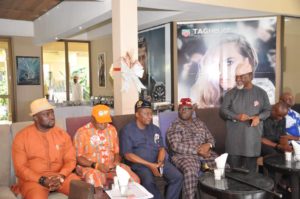 The Chairman of Vision Company, Obong Bassey Inuaeyen offers insight to the fact that the mid-rise building was conceived by vision development partners.
He notes that the estate is a private business with the land owned by a few Akwa Ibom people. He explains that the developers, Project Development and Finance Company, PDF are coming in from Lagos to ensure Vision Heights Estate comes to reality. According to him, the land and funds needed to complete the first phase of 51 apartment of eight floors is ready. With this development, what are the opportunities available to embrace?
Business Opportunities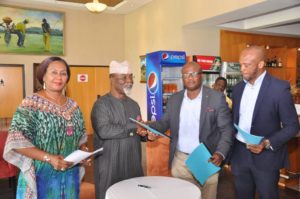 The Consultant for the project, says that Vision Height is determined not to export things needed for the project outside the State. While noting that Akwa Ibom people stand a greater chance to provide supplies needed for the project, he points out that "We will need those that can produce good products from Akwa Ibom State. They must be very good in their craftsmanship. In the process of their work, the Gross Domestic Product of Akwa Ibom State will rise."
What is more, the Consultant notes that business opportunity of owning each apartment is open for the public as each apartment will be sold at N40 million naira while the Pent House will go for a price of N110 million. He says those who subscribe now to the pent house may enjoy a bonanza of N100 million. Aluko however adds that the prices will be flexible.
For the Chairman of Vision Height, what is of great concern to him is the interest of Akwa Ibom people to be protected in the project. He explains his concerns " This is purely a business venture. However, I do hope that the government of Akwa Ibom State will take advantage of it. We don't expect any kind of person to live here. The future is for those who can perceive opportunities thousands of miles away and embrace it even before it manifest". But will the Akwa Ibom State Government among stakeholders in the State embrace the opportunity that beckons?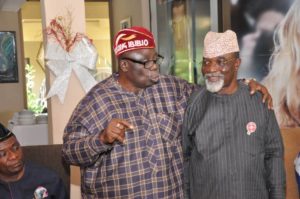 Akwa Ibom State Government Shows Interest
The Akwa Ibom State Commissioner for Science and Technology, Dr Iniobong Essien who witnessed the signing of Memorandum of Understanding for the project notes that the Akwa Ibom State Government appreciates investments which will put the State in global map and will be ready to key into it.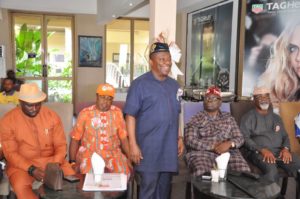 He says " The idea for Vision Height is a wonderful idea. I can assure us that the State will key into it. Knowing the kind of Governor we have, he loves smart development. This project is in line with the idea of what Akwa Ibom State should be in the nearest future. Investors who come in will need comfortable places. People want places that when they return home, they come back and still find comfortable place to still do their work. This is worth investing into".
On the part of the Chairman, Technical Committee on Foreign Direct Investment, Mr Gabriel Ukpe, he notes that his committee will work with Vision Heights to propagate the need for Akwa Ibom people to show interest in investing in the project so they don't loose out .
While charging Vision Heights Company to start work immediately, he assures that his committee will work with partners in Diaspora to key into the project.
For the Senator representing Akwa Ibom North West Senatorial District, Senator Christopher Ekpenyong, he notes that he is delighted over the concept of the building. While commending Obong Bassey Inuaeyen over the vision, he stressed that Akwa Ibom State is fertile and developed for such a state-of-the-art building.
Furthermore, the Speaker of the Akwa Ibom State House of Assembly represented by Deputy Leader of the House and Member representing Ini State Constituency, Rt Hon Emmanuel Ekpenyong says the world is going smart hence he is glad the State is not left behind. He assure that the Akwa Ibom State House of Assembly will key into the vision with the hope that it will attract many people especially investors into the State.
It is indeed the expectation of many that when Vision Heights Estate becomes a reality, Akwa Ibom State will join current trends of modern cities where the development of high and mid-rise buildings help them overcome the challenges of urban over population, aid in optimal use of scarce land resources, project the status symbol of the State, serve as tourist and investment attractions and most importantly add to the beautiful skylines of the State.