Top News
As Senator Bassey Albert Soars To Victory!
By Richman Benjamin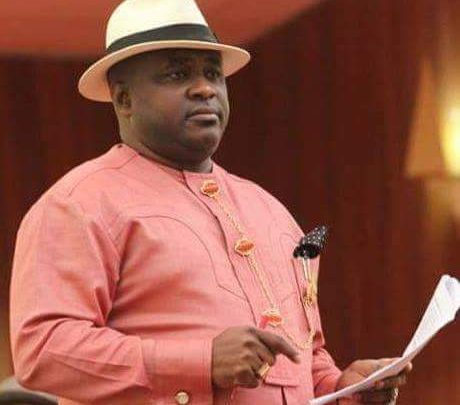 It is now clear to sceptics that Obong Bassey Albert, popularly called OBA, is a phenomenon heading courageously to electoral victory. Despite political storms and thorns in his way, he has remained unshaken; rather he focuses on his liberation mission.
Even when he steps on spikes which could have caused many to retreat, OBA still marches ahead without betraying emotion. He bravely weathers the storm with his dependable followers to the destined point, the Governor's Office.
It is clear that there is nothing his detractors can do to cause his acceptability and popularity to dwindle; rather, it keeps rising each day.
The huge crowd at venues of his events clearly show that intimidation and other undemocratic schemes deployed by desperate politicians to stop his emergence as the next governor of Akwa Ibom State are in futility.
With his enormous dependable support base, plus the troops of defectors from other parties coming in daily to swell his fold, the oppressors now know that the much-awaited "ballot revolution" has begun ahead of the polls. It is sweeping them off the ground, already!
Funny enough, the spearheads of the suppressive plots against OBA are some ungrateful politicians he had helped one way or another to rise. Now, they are shocked and humbled that irrespective of their plots, he keeps soaring like an eagle rising m with the storm.
The consolation OBA's supporters have is that God has given him unusual strength and enablement to withstand the adversities designed by his foes. The masses are therefore convinced that his quest cannot be thwarted.
Related: 2023 Guber: Uyo Sen. District Leaders Forum Endorse OBA
The Senator's overwhelming followership in his new party has made a clear statement that his political journey is unstoppable by any power of incumbency or might of other opposition parties because his mission is divine.
They boasted of chasing him out of the party he contributed immensely to advance and stabilise. They expected that he would be stranded, politically. But trying to frustrate OBA turned out to be a blessing in disguise, to further prove that he is God's plan to create a better Akwa Ibom from 2023.
The oppressive leaders who caused him to defect unknowingly played a destined role for him to leave the congregation of hypocrites, backstabbers, ingrates and evil plotters.
Now, he is leading the right-thinking electorate out of a sinking ship to YPP, a party described by its chairman, Apostle Nyeneime Andy, as where there is growth, fertility and prosperity.
Now, the groundswell of support for OBA, YPP and the leaves symbol is growing by the day, inching gradually to eventually victory at the poll.