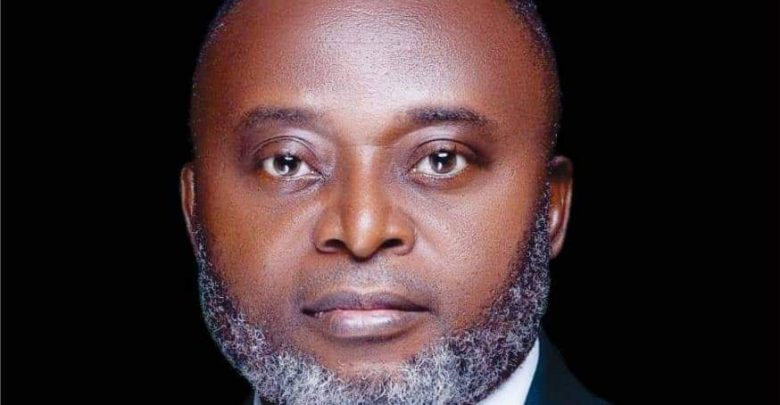 Barr. Usenobong Akpabio, a former lawmaker and legal practitioner is the secretary general of Ibom Patriots, a group led by late Obong Bassey Inuaeyen as the chancellor. Akpabio, in this interview, eulogizes the sterling leadership qualities of the late chancellor while praying to God to give his family the fortitude to bear the irreplaceable loss.
Let us meet.
I am Usenobong Otu Akpabio from Mbiaya Uruan, Akwa Ibom State, A lawyer by profession and also a politician. I was in the State House of Assembly for Uruan State Constituency between 2003-2011. After that, I tried other things in politics which didn't pull through. I am fully back to my legal practice. I am also happily married with children. I love sports and currently, I am the captain of Ibom Golf Country Club and the secretary-general of Ibom Patriots.
You are the secretary-general of Ibom Patriots while Obong Bassey Inuaeyen was the chancellor. How did you people conceive the idea and what purpose has it served? 
The idea of Ibom Patriots came when we discovered that Akwa Ibom State needed a voice as far as Nigeria is concerned. You find out that there are Ohaneze, Afenifere, Arewa and others who try to project where they come from and we sat back and told ourselves that we don't have a common voice as long as Nigeria is concerned. Yes, we have the Mboho Mkparawa Ibibio, Afe Annang etc. but they are socio-cultural groups. What we needed was a pan-Akwa Ibom movement and we came together to form it. Ibom Patriots is one group with highly distinguished personalities. We have people of diverse disciplines like professors, engineers, doctors, and many others including politicians and religious leaders as members. The group has stood up for anything that has to do with Akwa Ibom State in the Nigeria concept. Unfortunately, our chancellor recently passed on but the organisation is still alive.
How did your path with that of late Obong Bassey cross?
Obong was a seasoned politician and politics was what got us to know each other. However, in 2011 when I started playing golf, that was when we got closer. He loved golf and the sport brought us closer. We have almost the same convictions and ideas for a better society where things should be done fairly. We sat together and birthed Ibom Patriots. It was a product of our ideas and I also encouraged him to take up its leadership because of his popularity across Nigeria. We influenced each other when we became friends and to me, that is a relationship. He was a very wonderful person.
Related: Gov Eno, Oku Ibom Ibibio, Eminent Nigerians Pay Tributes As Obong Bassey Inuaeyen Is Laid To Rest
How was he able to manage this array of professionals, experts and elite in the organisation?
I saw in him somebody who can rise to any occasion. He could also relate comfortably with people at the lower cadre. He was a good listener and a man you hardly ignore his presence anywhere. He was a change agent and the truth is that he was more appreciated and respected across the country. In the field of golf, he was known worldwide for golf. Once you go to any golf tournament and identify yourself as a Nigerian, they will ask you after Obong. He was a true leader who needed not to be elected because his leadership qualities were inert. He was a very tolerant person and ready to listen to contrary opinions. He hardly imposed his views but rather consulted widely before making decisions. He wanted the best for everybody including the people he was leading. This virtue made it possible for him to be outstanding in leading every calibre of people. He allowed public opinion to drive his actions. He had this quality of knowing what to do, how to do it, and when to do it.
What will your group miss about him as he returns to his creator?
I am tongue-tied. However, he was so many things to so many people. People will miss him differently but as Ibom Patriots, we will miss his quality leadership. The golf family will miss his unorthodox and unassuming personality. In the golf world, he was called "Ekuweme" meaning talk and do. Whatever he said came to pass in the game of golf. He was an extrovert and a big fun to be with
What is your message to the young family he left behind?
Death is certainly the only uncertainty about its timing and that is the only thing that brings grief. If you know when you are going to die you will be prepared. At the age of 68 years, Obong was still young and active. The family will miss him because I know how close he was to his family. He was passionate about the immediate and extended families. My prayer is that he has finished his earthly race and we all will go that way someday. His time has come and we cannot question God. We will allow tears to flow and the pains will be washed away. I want the family to know that God knows everything and that the same God who has taken him will give them the fortitude to bear the loss. Whatever Obong was to them or would have been to them if he was to live, God will close the gap for them not to feel his absence so much. For all his extended families, that is the same message I give, even to the golf family and the Patriots family. He has finished his earthly race and gone to rest. We should think about ourselves because we will still go that same way. In all our actions we must know that a day will come when people will sit and talk about us. May his soul rest in perfect peace.