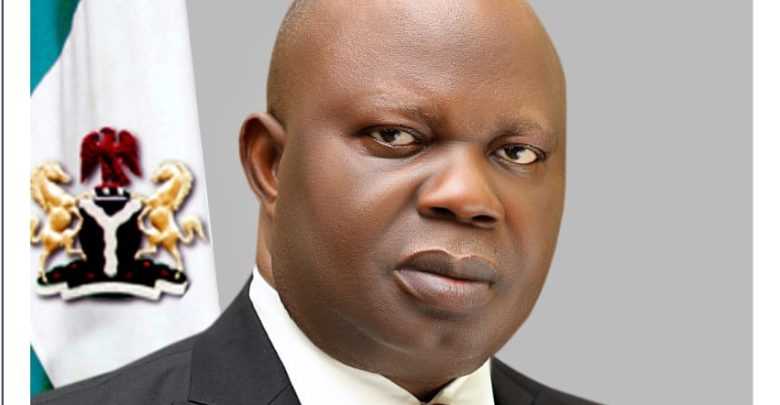 An astute administrator, Rt. Hon. Elder Israel Idaisin, the executive chairman of Ini Local Government Area, speaks on the death of their leader, the late Obong Bassey Inuaeyen, and the vacuum his demise will cause the people of Ini. 
In the same vein, Elder Idaisin examines the challenges of leadership at the third tier of government and some of his milestones in this interview with our editors.
Let us meet.
I am Israel Idaisin, chairman of Ini Local Government Area of Akwa Ibom State, and the son of the late Reverend Akpan Idaisin of Methodist Church Nigeria. I had a very humble upbringing. The nature of my father's missionary work saw me going to various primary schools according to where he was posted. Later I attended Ikono High School, Government Technical College,  Ikot Adaidem, and Deco Comprehensive High School. I also studied at Akwa Ibom State Polytechnic, Ikot Osurua, and the University of Uyo. Intermittently I was in Lagos in pursuit of greener pastures and had worked in various firms before going into politics. Some of the firms I worked with include MCC, a construction firm; NIPOST and Nigeria Airport Authority before I emerged as the chapter chairman of Ini Local Government Area and later chairman of chapter chairmen. I have been secretary, transition committee; transition committee chairman and now a two-term executive chairman of Ini Local Government. I have rendered comprehensive services to my Ini people and understand the nitty-gritty of the entire council area.
State and we have had issues of clashes and unrest between the two states. Can you throw more lights?
Ini Local Government Area indeed witnesses border crisis. It takes a leader with wisdom to handle the sensitive issues involved otherwise there will be perpetual war. I have, with the help of God, ensured that there is peace in Ini; the only exception is the Nkari area. Historically, we are bounded by four different local government areas of Abia State, Ikwuano, Arochukwu, Bende etc. The solution to put the dispute to a final rest is with the National Boundaries Commission. The problem sometimes emanates from one nuclear family where a brother will take up citizenship of Akwa Ibom and his brother will opt for citizenship of Abia State. We have been severally to Abuja to bring the officials of the National Boundaries Commission to come for demarcation and once they arrive, Abia people will create tensions and they will flee back and it takes another two to three years to get them to come again and the same thing repeats. For years, we have still been on field-tracking which is not good news. The Nigerian Institute for Oil Palm Research (NIFOR), because of its rich palm trees, has been invaded by expansionists to corner it to themselves. In the initial map, some parts of Itu Mbonuso have been ceded to Abia State by mistake, which on its own, is generating tension and problems. Again, these people have had intermarriages and have relatives between Akwa Ibom and Abia States and we have issues like people from Akwa Ibom answering Igbo names and those from Abia answering Akwa Ibom names. Yet when the crisis erupts they kill themselves not minding that they are relatives. However, after a careful study, I concluded that if I keep waiting for the National Boundaries Commission we will record more casualties and I decided to have dialogue with the chairman of Ikwuano Local Government Area of Abia State. We had a fruitful dialogue and peace was achieved and for some time now there has been no problem. The piece of land which was at the centre of the problem, we agreed, should be left alone by both parties for now as we wait for the National Boundaries Commission to come around and carry out official demarcation of our boundaries with them. The wisdom we applied paid off. We also have a fair share of the Indigenous People of Biafra IPOB problem in which members of the security agencies were killed until we arrested some of their men. However, before they were apprehended, we had lost about 10 police officers. Our youths assisted in the arresting of some of the gunmen even with their charms. We also lost police vehicles and other valuable properties. We have also experienced damage that came with the herdsmen and their cows which damaged farmlands. We dialogued with the Hausa/Fulani men to stop them from further destruction. Ini has fought many battles to secure our home and today there is peace in Ini but lots of funds have gone into the provision of security. To police the gateway or boundary of a state is a herculean task which needs lots of funds.
Ini has fertile soil capable of revolutionising agriculture. What has your council or the state government done to utilise this opportunity?
We thank God that Pastor Umo Eno has pinned down agricultural development as one of his pilot schemes and Ini Local Government Area as a major beneficiary of the project. Ini has a very fertile soil that can grow any crop in commercial quantities from rice, cucumber, tomato, palm trees, and cassava everything you plant grows immediately. We donated land to the former governor to help attract investments into Ini Local Government Area. Today, the kind of agricultural development Pastor Umo Eno is talking about is all-encompassing; a situation where you have massive farm estates with facilities like schools, medical facilities and other infrastructure that will make farming a permanent job for those cultivating the farms. It will be commercial farms and Ini is very vital to his development. We have massive hectares of land and we can give as much land as needed to see to the success of the programme. We have fertile lands good for mechanized farming.
Related: Obong Bassey Inuaeyen Impacted Humanity
Ini also has very bad topology and access roads. What is your plan?
Yes, Ini generally has a challenging topography and that is part of the challenges you see when you have a land flowing with milk and honey. It is very difficult to access such areas. It is like the land of Israel where difficult terrains have been revolutionized for the delight of tourists. The problem of Ini is bad roads except the one done by former Governor Udom Emmanuel linking Ikot Ekpene through Ini to Arochukwu. That road alone has been so busy and has enhanced the economic status of the area. We are pleading with the government to open up the roads in Ini Local Government Area because Akwa Ibom State will be the biggest beneficiary. Opening up Ini roads will help in evacuating so much agricultural produce wasting away in the hinterland. The hinterland is hardly accessible owing to poor terrain.
Ini Local Government has lost one of its most outstanding sons, a renowned businessman and politician, Obong Bassey  Inuaeyen, what is your take on this sad event?
Obong Bassey Inuaeyen's death hits me like a thunderbolt; I am one of the most affected persons because of his role in the local government. It will be very difficult for us to get another leader who will play the role which he had played in the local government area. He was a highly respected man in government circles and also a leader who tells the truth to the powers that be. He was a good listener, who never judged his people from hearsay or rumours but must give all parties equal opportunities. He supported my political career including standing with me to ensure I secured a second term when some people planned to sabotage it. He was a man in support of justice and equity and could sacrifice anything to see that Ini and all lovers of justice excelled. He was one man who stood his ground to ensure that truth prevails always. It is so sad that after these struggles when he should be enjoying the fruits of his labour, death struck. I am pained. When he was away, the opposition plotted my suspension from office over issues concerning the last election which were beyond me but he stood up for me even from his sick bay. He called the then-governor not to listen to those working to pull me down. Again, notwithstanding his height in the state and the respect he commanded, he gave due regard and respect to the office of the chairman of his area whom he always described as the chief security officer and the number one citizen of Ini. He was a very principled person who took firm decisions and because of that, he had both admirers and foes alike. His demise is a big tragedy to the entire Ini Local Government Area. He was our face and number one stakeholder in the state. Today we have no visible person in the position at the state level. That reality has dawned on me and our people. He was a major stakeholder in the state politics. It will take a very long time to groom a person of that calibre again to take over the big shoes he left behind. His fame and respect spread beyond our state as I am an eyewitness of how people celebrate him in faraway Abuja and Lagos anytime we travel together. He was never a local champion but carved a global identity for himself. I am like a son to him and the information of his death completely destabilized me. Before the news filtered in, on many occasions, we spoke and he assured us of his readiness to return home and I kept pleading that he should take a good rest after treatment as we were holding forth for him down here. He tried returning when Governor Umo Eno came for campaigns but I pleaded he stay back as Eno knew he was on treatment and he agreed. During the election, he wanted to return but I pleaded he should stay back and recover well. But when I called and he was not picking up or returning my calls, I knew the worst had happened. Where do we go from here?
Any plan to immortalize him?
There is nothing too big to do for him for his contributions. Sadly, he never returned home for us to celebrate him. I must first use this opportunity to thank both the present and the immediate-past governors for ensuring that his corpse returned home to his people. It would have been a big burden on us if our leader was buried in a foreign land. I am indebted to Pastor Umo Eno and Udom Emmanuel for their kind gestures. I will stand with the family always and all they stood for. When the burial is over, the local government and people of like minds will make reasonable inputs on how best to immortalize our leader. It will be a collective decision. Ini people have missed a great man whose replacement will be difficult to find. He was one of the few people in the state the government confides in when serious decisions are to be taken. He was a member of the inner caucus and it takes time to groom such a leader. Late Obong Bassey Inuaeyen was a self-made man through his ingenuity in business and entrepreneurship. He never held any political office yet he rose to the top of leadership and commanded so much respect. Perhaps his grooming was one of the reasons he spoke truth to power always.
You have been privileged to serve as two-term chairman of Ini, amidst the challenges. What are the achievements recorded?
My first appreciation goes to the former governor, Mr. Udom Emmanuel, who found me worthy to serve at various levels of leadership from transition chairman to elected chairman. We are eternally grateful to him. Security issues were one of the major challenges and it stalled so many lofty programmes which we would have loved to do. However, I am deeply grateful to God that we have also recorded modest success in my administration. We have empowered young people through the provision of mobility in the form of minibuses to use them to ply roads that many people avoid. Today, we can convey goods and services around our council area. During the celebration of Ini Local Government Area at 30, we honoured our pathfinders and also gave out 15 minibuses as well as motorcycles to several youths. My administration built a big restaurant in the council and 12 executive toilets for the people who always don't have access to convenience when we have open rallies in the council area. We also built a motor park with 25 lock-up shops to help the people economically and equally activate economic activities around the council. I have built a primary school in my village for the benefit of the people. One of the conditions for handing over the community land to the government for investment was to be given a school in return which I single-handedly did. Today, I pay the teachers from my resources and today the school has over 100 pupils.  I also built a civic centre and borehole in Ikot Etukeyen.  We have also built culverts in areas that needed them. I have also purchased vehicles for different categories of leaders in my council area which distribution will be done soon. I have paid the bursary to Ini students. We have carried out skills acquisition training for several youths to learn a trade to stand on their own. We are determined to help those who need assistance.
Read Also: Oku Ibom Ibibio Tasks Commissioners, Other Appointees To Work For The Success Of Gov Umo Eno's Arise Agenda
What is your impression of Governor Umo Eno's A.R.I.S.E Agenda?
The A.R.IS.E Agenda centres around Ini Local Government Area and we want the programme to mount its searchlight on Ini Local Government Area because of its capacity to feed the entire state if well harnessed. Everything we need is there in Ini Local Government Area. The governor has surprised Nigerians in general and Akwa Ibom people in particular. He wasn't taken seriously initially but he is today on the lips of all Nigerians because of his achievements. People have seen the direction he is going and it has been accompanied by encomiums and applauses. He came and brought political inclusion, unity and love among the once polarized Akwa Ibom populace once polarized along partisan lines. The governor is so popular now that even if there is an election in the state, the opposition politicians will vote for him more. He has surprised so many people and my prayer for him is God's protection and wisdom to do more for the people of Akwa Ibom State.
As you round off the present office in a few months, what is your next destination politically?
We leave that to God who lifted me to the present office even when I never dreamt of it. My greatest joy will be to successfully finish strong. The same God who brought me this far will decide my next line of action.