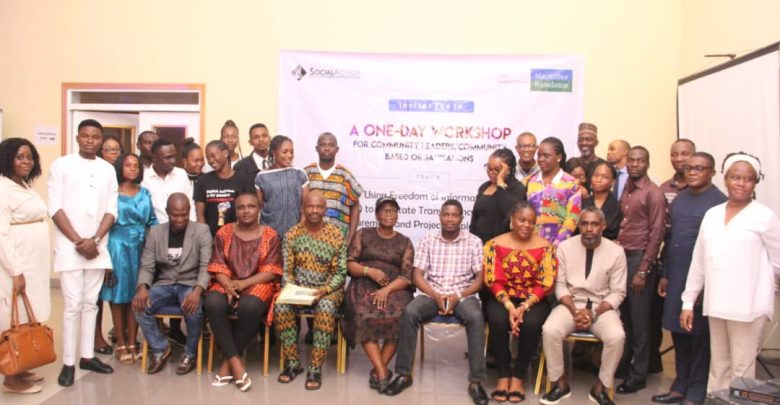 Social Development Integrated Centre (Social Action) with support from MacArthur Foundation has trained Community Leaders and Community Based Organization(CBOs) in the Niger Delta on how to use the Freedom of Information Act to facilitate transparency in public procurement in an effort to ensure project implementation in the region.
The FOI training which took place in Uyo on Monday, the Akwa Ibom State capital had community leaders and Community Based Organization which are drawn from Delta, Rivers, Cross River and Akwa Ibom State receive training on how to turnaround the poor reputation the region is known for in abandoned projects.
The Freedom of Information Act which came into force in 2011 is designed to make public records and information more freely available, provide for public access to public records and information, protect public records and information to the extent consistent with the public interest.
According to the Programs Coordinator of Social Action, Botti Isaac, the training is put in place to support community actors and leaders to be able to use the freedom of information Act to facilitate transparency in procurement processes and project implementation at the community level in all Niger Delta States.
Isaac pointed out that when community leaders and community based organisations begin to request for procurement information in their domain, they will keep duty bearers on their toes to deliver on their mandate and also provide public services at the right time so that the people are not deprived the benefit of governance at any point in time.
Speaking on what the communities and organisations need to do especially in reaction to the culture of Ministries, Department and Agencies(MDAs) not responding to freedom of Information request, the Programs Coordinator said " That is why we took the participants through the various processes especially as the FOI provides for an end result which is the court. With that, you can test the efficacy of the FOI. We have done it and we have had results. We know the community people can do it and there will be positive results".
Isaac assured that Social Action will support communities and community based organisations technically and with resources in case they want to challenge organisations or individuals or refuse to comply with FOI requests.
Earlier, one of the resource persons at the training, the Executive Director of Well of Science, Mfon Gabriel said the provisions of the FOI supersedes all laws including official secret Acts which limits access to information.
He pointed out that the FOI Act gives power to anyone to make requests either verbally or in writing to a public institution for public information which is to be given within seven days.
Gabriel noted that where a case of wrongful denial of access is established, the defaulting officer or institution commits an offence and is liable on conviction to a fine of N500, 000.
He explained that by the definition of public institution by the Act, public institutions include all organisations which are supported in whole or in part by public funds or which expends public funds and private bodies providing public services, performing public functions or utilizing public funds. Gabriel said by the definition, it implies that private companies that enjoy government contracts fall among those information and relevant procurement documents can be requested from.
Other resource persons also took participants on the practical steps of making requests to each MDA, especially the ones that deal with the Niger Delta.