Top News
Home Going of the Iconic Leader: OBONG BASSEY INUAEYEN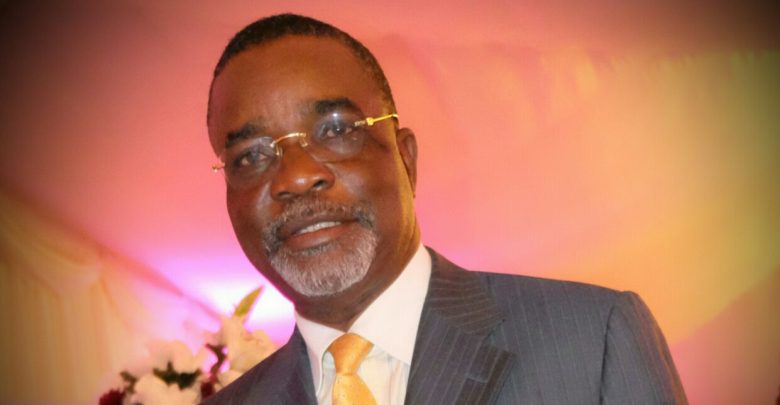 The life of Obong Bassey Inuaeyen resonates with éclat. The impact of his journey of six scores and eight is full of testimonies. A contemplative glimpse into his life and times unveils a humanist, a unity-promoter, a humble, caring, amiable and result-oriented persona, whose imprints will remain ever indelible.
A Prince of the great Ikot Edon Royal family in Mbente, Nkari in Ini Local Government Area, Mr B, as popularly called, was born on the 10th of October 1954 into the family of Elder Ekpenyong James Inuaeyen and Deaconess Arit Ekpenyong Inuaeyen. Like his father, the mother was a princess from the great Ikot Isong Royal Family in Ubiekene village, Nkari Clan in Ini LGA. Mr B was the second child and second son in a family of six.
His parents were very fond of him right from childhood, just like everyone around him due to his peaceful, charismatic and stylish lifestyle. Even in adulthood, these excellent traits were very defining of him.
In religious matters, Mr. B was a devout Christian. He was a committed Catholic; a member of the Finance and General-Purpose Committee of St. Leo's Catholic Church, Ikeja. He later joined the Catholic Church of Presentation GRA, Ikeja, where he served as the chairman of the Catholic Men Organization (CMO) from 2013- 2014. He attended St. Dominic's Catholic Church in Uyo.
Chief Inuaeyen married Ifeoma Inuaeyen (nee Onike), a distinguished and accomplished banker and the marriage was blessed with two children, Mrs. Ndifrekeabasi Binitie (nee Inuaeyen) and Mr Nsikakabasi Inuaeyen (Kaka).
Related: Inuaeyen Was A Change-agent, Respected Across Nigeria
Obong B attended primary and secondary schools in Nkari, Mbente, and later studied and obtained a Diploma in Marketing and Sales Management from Transworld Tutorial College in the United Kingdom. He constantly sought to upgrade himself and had a strong quest for learning, and this led to his acquisition of a Bachelor of Science in Business Administration, a Master's Degree in Business Administration and a Master's in International Relations and Strategic Studies, all from the University of Lagos.
In his desire to expand his horizon in managerial skills, he attended many professional courses in the United Kingdom. Such include the Top Executives Leadership Course (Manchester Business School, September 2007), and Managing Internal Procurement (Barolhurst Resource, UK 1982), to name but a few. He was a Fellow of the Nigerian Institute of Management, The Association of Corporate Governance Practitioners of Nigeria, The Institute of Book-Keepers of Nigeria and a Member of the Institute of Directors (UK).
His competence in business administration, marketing, and public policy is demonstrated in his entrepreneurial ventures. His rare qualities enabled him to demonstrate his prowess as the president of American Global Project LLC and group executive chairman, of Vision Development Company Limited, Agritec Holdings Limited, and Basestar Engineering Limited.
Obong Bassey travelled wide and over the years had developed wide and solid business links in Europe and America. He ventured into politics to fulfil his desire to render selfless service to his community and the wider humanity. Following the return to democratic rule in the country, he joined the Peoples Democratic Party (PDP) and for his trademark loyalty, remained a card-carrying member of the ruling PDP in Akwa Ibom State.
He held numerous positions where he displayed quality service and created memorable impact. Notable, among others, were the chairman of, the Finance Committee; member of, the State Campaign Committee; chairman, of Finance Committee, Central Working Committee (PDP/Attah Campaign Organization 2003); chairman, of Central Planning Committee, Akwa Ibom State 10th Anniversary Celebration, etc. He was the chancellor of Ibom Patriots, a leading socio-political group in Akwa Ibom State and chairman of MIREMCO until his transition.
Read Also: Gov Eno, Oku Ibom Ibibio, Eminent Nigerians Pay Tributes As Obong Bassey Inuaeyen Is Laid To Rest
Most commendable is the fact that Mr. B was a true philanthropist. His scholarship programme, Bassey Inuaeyen Scholarship Foundation (BISF), greatly advanced the educational needs of thousands of students across the country, who have graduated in various disciplines to become successful professionals. In recognition of this feat, the prestigious Paul Harris Fellowship Award of the Rotary Club International was conferred on him for his outstanding humanitarian services.
He was also honoured with numerous traditional/chieftaincy titles by the Akwa Ibom State Traditional Rulers Council, Ibibio Nation, Oro Nation and different Local Government Traditional Councils. To mention a few, he held the titles of Uko Akwa Ibom, Obong Uforo of Ibibio Land, Ntata Oro, Obong Iberedem Nkari, and Eduek Iman Ibom.
Obong Bassey Inuaeyen was an avid sportsman and sports enthusiast. Until his death, he was the president of Ibom Golf Club and former chairman of the Squash Section, at Lagos Country Club. He was also a member of the IBB Golf Club, Abuja as well as Ikeja Golf Club; a patron of Uyo Club, holding at one time or the other various chairmanship/management positions in different clubs. Besides, he was a benevolent and relentless supporter and sponsor of the Nigerian UK Golfing Association (NUGA).
The scripture says in Proverbs 3:1-2 "To everything, there is a season, and a time for every purpose under the heaven: a time to be born and a time to die…"  Inuaeyen took ill and underwent a lot of treatments both in Nigeria and abroad. He was still in America for further treatment when he passed on peacefully on June 30, 2023.
He is survived by his wife, two children, a son-in-law and a grandchild as well as two brothers, two sisters and numerous cousins, nephews and nieces.
Read Also: A'Ibom Dep Gov Happy With Activities Of Ibom Peoples Congress, USA
As Chanakya, an Indian philosopher enthuses "A man is great by deeds, not by birth," the impacts of Inuaeyen's journey of six scores and eight are quite evocative and memorable. Yet, in the words of James Butler, "To die completely a man must not only forget but be forgotten. He who is not forgotten is not dead".
Obong Bassey Inuaeyen is not forgotten –and will never be!